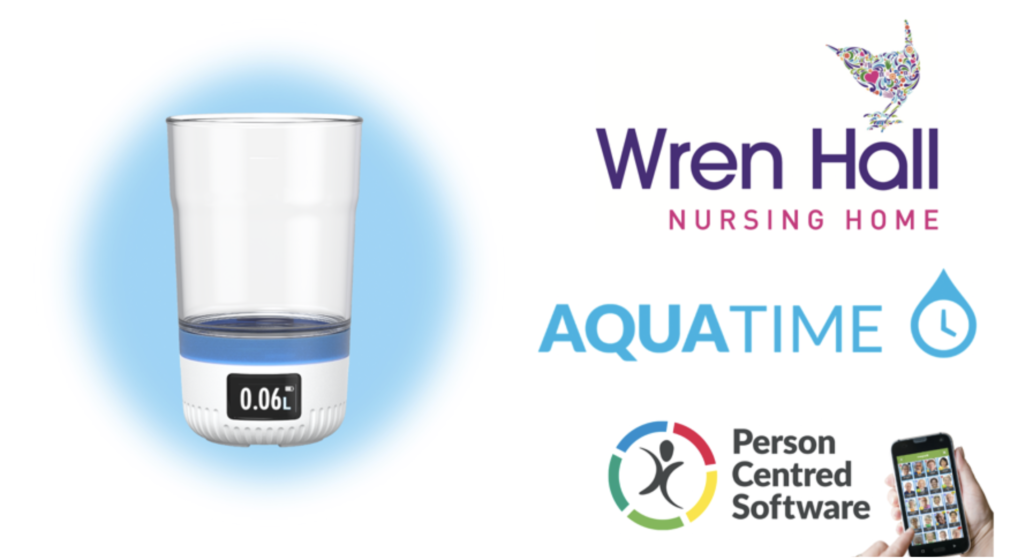 Aquatime exhibited on UK's largest welfare technology Expo - lands the first UK customer and begins collaboration with the UK market-leading provider of software solutions for the care sector
On 15 and 16 September, Aquatime exhibited at Dementia, Care & Nursing Home Expo, UK's largest Expo within welfare technology. The objective of the participation was to find potential partners to help to introducing and market Aquatime, the intelligent drinking glass, in the UK. 
The result of the participation was a great success. Aquatime not only agreed to initiate a partnership with Person Centred Software, which with more than 2,500 care homes on its customer list, is the UK's market-leading provider of software for elderly care. They also managed to land the first UK customer, Wren Hall Nursing Home from Nottingham, which will have Aquatime implemented in early November.
Aquatime – the intelligent drinking glass
Aquatime is a cloud-based welfare technology IoT solution for the prevention of dehydration. Aquatime is an intelligent drinking glass that continuously monitors fluid intake, shows drinking status on the glass, and sends data to caregivers and healthcare professionals.
Perspectives in collaboration with Person Centred Software.
Both companies want to improve residents' quality of life and make everyday life easier and more manageable for nursing and health professionals.
"Our Mobile Care Monitoring solution revolutionised the way that carers record the care they provide to the people they support. We have already seen how tracking hydration levels on our digital care management system has led to a reduction in the number of falls. By using Mobile Care Monitoring our customers are capturing more data than ever before, but most importantly spending less time on administrative tasks and making better use of the data, whilst giving them more time to care. Mobile Care Monitoring captures the observations where direct care and support has been provided and we are always looking to provide other technologies that can supplement the rich data we already capture" says Andrew Coles, Head of Product at Person Centred Software. Andrew continues; "Aquatime is an exciting product that supports our mission and vision as well as expand our offering into the care sector."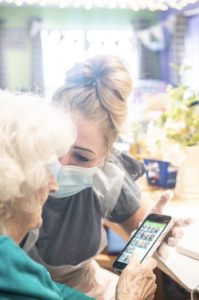 Kim Toft Madsen, director and partner at Aquatime, says: "The potential of a close collaboration with Person Centred Software is fantastically interesting for Aquatime, not only for our entry into the UK market but also for the Australian market, where Person Centred Software also has a significant market share. Of course, it is also interesting that Person Centred Software has just established a Nordic office located in Gentofte". 
Perspectives in collaboration with Wren Hall.
Kim Toft Madsen, director and partner of Aquatime, says: "We are of course incredibly proud and happy that we managed to enter into an agreement with a high-quality profiled nursing home like Wren Hall, at the Expo. When entering a new market, it is important to find a reference customer as soon as possible who can support marketing initiatives in the new market. It is also incredibly positive and fortunate that Wren Hall are one of many advocates of Personal Centered Software and embrace new technologies to improve the quality of care".  
"At Wren Hall, we have been looking for a product that can measure fluid intake and motivate our residents to drink more," says Anita Astle, Managing Director of Wren Hall Nursing Home and continues: "Aquatime seems to be exactly the solution that can help us in the efforts to increase the quality of life of our residents, which primarily consists of those living with dementia. Of course, it is also positive that we can get Aquatime fluid-intake data integrated into our digital care management system from Person Centred Software.
For further information, please contact:
Managing Director, Anita Astle, Wren Hall Nursing Home on +44 7939630692 or anita@wrenhall.com
Regional Manager Nordics, Mikael Thorsen, Person Centred Software on +45 32 74 60 60 or m.thorsen@personcentredsoftware.com 
Director and partner, Kim Toft Madsen, Aquatime on +45 51601001 or ktm@aquatime.dk 
You can also visit www. wrenhall.com, www. personal center software.com and www.aquatime.dk
Wren Hall is a privately owned nursing home in Nottingham specialising in caring for and servicing people with dementia. Wren Hall employs 125 people. In 2020, Wren Hall was awarded the highest rating "Outstanding" by the UK's public independent control authority, the Care Quality Commission. Wren Hall was established in 1989 and is owned and managed by Anita Astle, who has a background as a Registered General Nurse.
Person Centred Software was started in 2013 with the objective of helping to improve the quality of life for people in social care. Person Centred Software's Mobile Care Monitoring is the care sector's most widely-used digital care management system, and most widely referred software provider within social care. More than 2,500 care homes use Mobile Care Monitoring, supporting over 77,000 residents. Person Centred Software has become an award-winning global company launching in Australia in 2018, Ireland in 2019 and The Netherlands and Denmark in 2021. Amongst numerous industry awards Person Centred Software was also placed on the Sunday Times Tech Track 100 and top 10 SME in Digital Leaders 100 in 2020 and Deloitte Tech Fast 50 list in 2019. In addition, their new coronavirus-specific features were recognised at the Health Tech Digital Awards 2020 for Best COVID-19 Software Solution.
Aquatime is a young Danish Caretech company with the mission to develop and deliver market-leading, intelligent and intuitive Internet of Things (IoT) solutions for preventing dehydration in Denmark and internationally. AQUATIME intelligent drinking glasses are sold as a subscription scheme, and are today delivered to the private and public care and health sector in Denmark and internationally. Aquatime is headquartered in Nyhavn 39 in Copenhagen, Denmark.