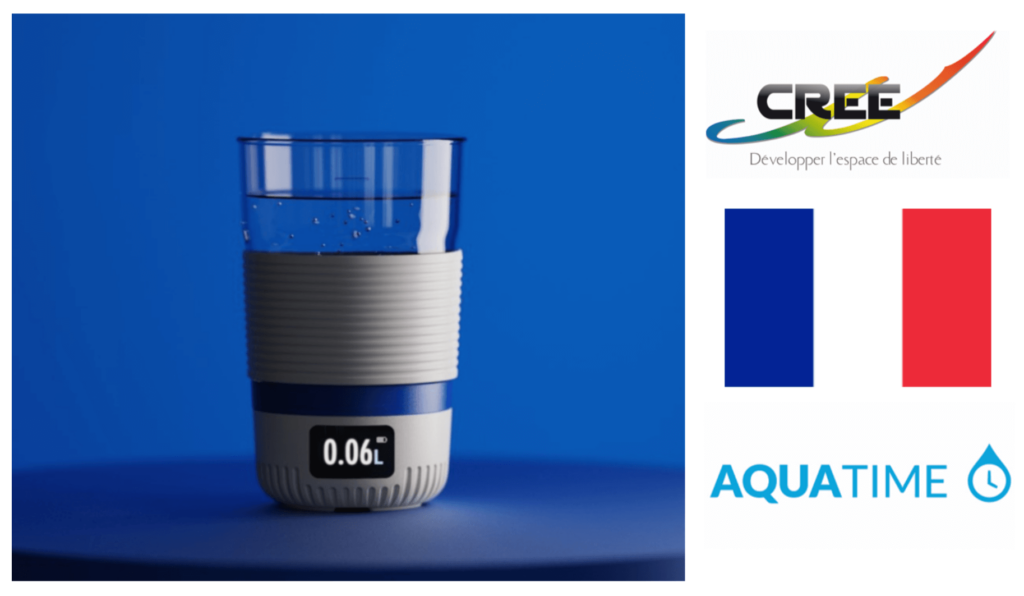 Aquatime enters the French market and initiates collaboration with CREE in distribution, sales and support of Aquatime, the intelligent drinking glass for the prevention of dehydration.
In a world where the elderly population is growing, dehydration among the elderly has become a critical, economic, and practical challenge for the care and health sector as well as a major inconvenience to the elderly citizen.
Aquatime - the solution
Aquatime is an intelligent drinking glass which continuously monitors fluid intake, shows the drinking status on the glass and sends data to caregivers, health professionals and possibly relatives.
The aquatime drinking cup with its associated monitoring and reporting system is perfectly suited to give concrete substance to the documentation duty for patients. The Aquatime system:
Is highly reliable, provides quick insight at patient level
Can be used for corrective actions in the fluid intake
Provides clear monitoring reports. These can be used for fluid-intake corrections but also as evidence-documentation.
In this way, AquaTime ensures fluid intake improvement for residents/patients and cost reduction for the care institution.
Aquatime detects potential dehydration among the elderly (Examination phase), encourages the elderly to drink (Habit change phase) and maintains the elderly's good drinking routines (Maintenance phase).
The glass is the result of an Innovation Partnership project and has been developed in close collaboration with citizens and health and care staff.
"For years, CREE has had a good collaboration with the Danish embassy in Paris and we currently represent several Danish welfare technology companies on the French market. We are always looking for new innovative solutions, and since in France there is an increasing focus on preventing dehydration, Aquatime fits perfectly into our product portfolio. We look forward to a successful collaboration with Aquatime" Jean-Luc Marcelin (CREE)
"The French market is very important for us, and we have already experienced a committed, professional, and sales-focused effort from CREE, which bodes well for the future. CREE is a pioneer in aids and welfare technology on the French market and has for more than 45 years focused on delivering innovative and value-creating solutions We look forward to entering and conquering the French market with our Aquatime solution in close cooperation with CREE"
Kim Toft Madsen (Aquatime)
More information:
For France: 
For Denmark: 
Or visit https://www.cree.fr/ and https://aquatime.dk/en/