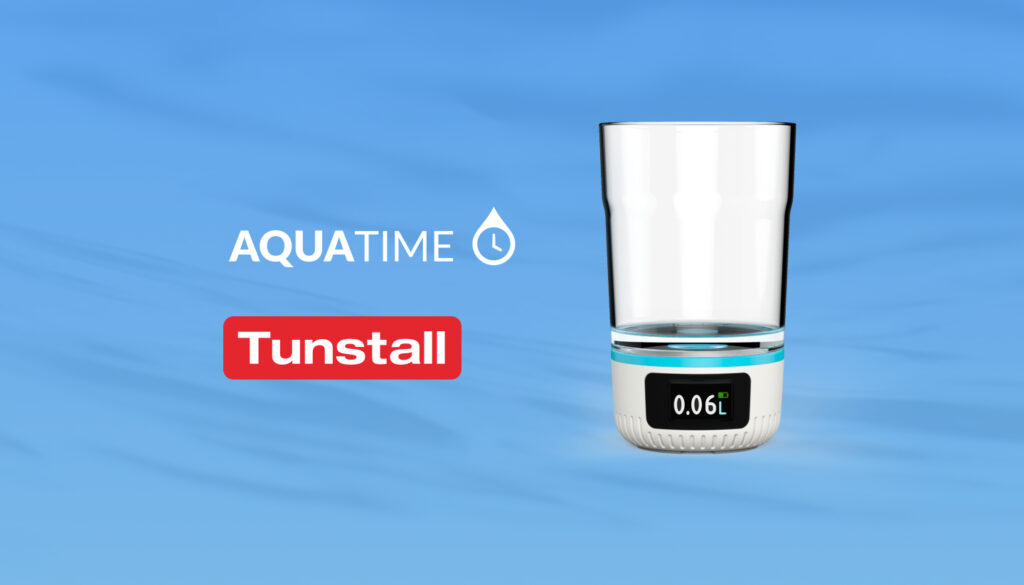 Tunstall initiates a collaboration with Aquatime, the company that has developed the intelligent drinking glass that among other things, can prevent dehydration. It's a great match that adds extra possibilities to Tunstall Cognitive Care®.
Fewer hospitalizations due to dehydration, support the elderly to stay in their own homes and help care staff, are some of the benefits and the intelligent solution can both remind a citizen to drink and send data to caregivers.
The intelligent glass
Automatic reminders make it easier to remember fluid intake during the day. This can be done via "nudging" with sound or light in the glass, which also allows staff to become aware of whether the citizen is getting enough fluid. 
Perspectives in the cooperation
Both companies want to increase the quality of life for senior citizens - and support the opportunities for the elderly to stay in their own homes. Additionally, to make everyday life easier for the care and health staff.
At Tunstall, we want to allow municipalities to be at the forefront of a citizen's development and deliver a solution - Tunstall Cognitive Care®, which handles all citizens' needs for collaboration with care in their own home. This is where the intelligent glass fits in well, as drinking patterns can be documented, prevented, and motivated for a better life," states Anette Stjerne, Sales Director at Tunstall A/S.
Kim Toft Madsen, CEO at Aquatime, states: "Our solution fits well with Tunstall's product range - not only in Denmark but also internationally, and we are already in good dialogue with some of Tunstall's other subsidiaries in Europe. We see good opportunities for both companies, as we complement each other well." 
More information 
More information is available from:
You can also visit www.tunstall.dk and www.aquatime.dk
About Tunstall
Tunstall develops and delivers solutions for security and communication within the health and care area. The solutions include i.a. personnel insurance, dementia insurance, call systems for nursing homes, hospitals, and psychiatry, as well as emergency calls for private individuals and home care. The company is headquartered in the UK and is represented in 30 countries worldwide. Tunstall's Danish branch is located in Stilling, near Skanderborg.
About Aquatime
Aquatime is a young Danish CareTech company that develops, markets, delivers, supports, and maintains market-leading, intelligent, and intuitive IoT solutions to prevent dehydration in Denmark and internationally. The customer group is the public and private health and care sector. The company is located in Copenhagen.